13th annual My Bloody Valentine is Shameless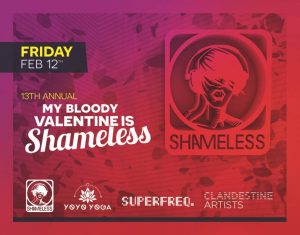 Shameless celebrates art, love, community and music once again at the 13th annual My Bloody Valentine is Shameless party. We have a fantastic line up with two rooms of sound, screen printing, Yo Yo Yoga and a record release party on top! Dress to EXPRESS!!
———————————————————-
13th Annual
MY BLOODY VALENTINE IS SHAMELESS
Friday February 12th
Superfreq Showcase Room:
-Mr. C (Superfreq, The End, The Shamen)
-David Scuba (Superfreq)
-Live Visuals by Brandy Gray
Shameless Audio Room:
*Record Release Party SA004*
-Jon Cates (Shameless Audio, Monism, #RCU)
-Shameless residents: Recess, Adlib, Tyson Wittrock, Joe Bellingham & Moist Towelette
-Lasers by Radiant Lasers
7-10p Free Shameless Screen Printing!
(BYO article of clothing to get the Shameless logo printed on it)
7-9p Yo Yo Yoga with live DJs, visuals and a 30 guided mediation session following yoga (separate ticket required)
Location TBA DOS by calling 206-979-7740
***Advance physical tickets available at The Breakfast Club New years Day and from any of the Shameless crewmates afterwards.***
If you're interested in getting involved and volunteering in any way please message us privately.
———————————————————-
Read on below for more infomation about our headliners…
ABOUT MR. C:
Richard West aka Mr.C was born in London in the late 60's. He started MCing in London clubs aged only 16 & soon earned a reputation as a fast talking vivacious rapper working with LWR radio's Ron Tom, Jasper the Vinyl Junkie & Jazzy M. Mr.C then hooked up with Colin Faver & Evil Eddie Richards to became resident rapper at the legendary Camden Palace in London, going on to MC for Colin Faver on the then illegal pirate radio station Kiss FM. Mr.C went into the studio to record his 1st house track with Eddie Richards as Myster-E which was released in August 1987. This inspired Mr.C to become a DJ to learn more about his beloved House & Techno music so in late '87 Richard took to the decks. Mr.C has since organized, promoted & been resident DJ at: Fantasy ('88), Base (Dungeons '89), Release (91), Harmony (92), Drop (93), Cyclone (94), Vapourspace (94 & 95), Flavour (The End 95 & 96), Subterrain (The End 95 – 2002), Superfreq (Worldwide 2002 – Present), Super Disco Freq (LA 2010 – present), Montage (London 2015 – Present).
Mr.C held down a weekly radio show called Future Music with Kiss 100FM in London from 1993-2002 & has presented TV shows for MTV, FH1, VIVA & BBC. To say that Mr.C is one of the most iconic DJs in the world would be an understatement.
In December 1995 Mr.C opened the legendary night club The End in London with Partner Layo Paskin of Layo & Bushwacka! fame & then AKA bar 3 years later, which celebrated its 13th anniversary in December 2008 & was lauded as one of the best night clubs in the world, which completely changed the face of clubbing in London & beyond. Sadly The End & AKA closed its doors for good on January 24th 2009. 1 Chapter closes & another begins.
Mr.C is founder & owner of Plink Plonk records, co-founder of End Recordings & founder & co-owner of the Superfreq label, which is now releasing music prolifically. He has recorded under the names, Myster-E, Unity 2, Nu Jacks, Bass Bureau, The Shamen, Mantrac, Somnambulist, Animus Amour, Killer Loop, Mr.C & Tom Parris, Mr.C & 16B, Sycophant Slags, Indigo Kidz & East LA Tek.
Mr.C is best known as front man, songwriter & producer of the pop group The Shamen with whom he notched up a string of top 10 hits including Move Any Mountain, Love Sex Intelligence, Boss Drum, Phorever People & the UK number 1 smash hit Ebeneezer Goode. These hits were hits the world over. The Shamen album Boss Drum went double platinum in the UK & they also won a highly coveted Ivor Novelo for Songwriters of the year UK in 1993. Richard's currently recording solo as Mr.C & is also doing collaborations as the Indigo Kidz with Affie Yusuf & with Noel Jackson as East LA Tek & has recent releases on Poker Flat, Get Physical Records & Adjunct Audio as well as his own Superfreq imprint.
Mr.C runs & promotes Superfreq events, which celebrated being 13 years old in March 2015 & ran monthly at Mr.C's club The End until it closed down in January 2009. Superfreq now functions quarterly in London including a bi-annual residency at the legendary nightclub Fabric & spends the rest of the time hopping around London's popup warehouse venues & various clubs. Superfreq does regular events in Los Angeles as well as bi-monthly events in Calais France & one events in Brooklyn, Chicago, Detroit, San Francisco, Miami, Dallas, Denver & Washington DC in the United States & also Vancouver, Playa Del Carmen, Mexico DF, Moscow, Ibiza, Bogota, Montañita & other one off / annual events the world over & has just competed an Asia tour hitting Manila, Phnom Penh, Siem Reap, Kuala Lumpur, Singapore, Beijing & Shenzhen this summer of 2015.
Superfreq has accomplished 7 successful seasons in Ibiza, 3 at Club Underground, 2 at the legendary DC10, 1 season at Blu & 3 events at Aura & hosts annual events at BPM Festival in Playa Del Carmen as well as hosting events at WMC, Burning Man & ADE.
You can hear Mr.C's current DJ mixes on his Soundcloud, check out many of his productions on his youtube channels & find all Superfreq releases on Beatport.
Mr.C Links:

https://facebook.com/mrcsuperfreq
https://twitter.com/mrcsuperfreq
https://youtube.com/user/richardfreq
https://instagram.com/bbeeaannzz
https://facebook.com/richardwestmrc
Superfreq links:

https://superfreq.org
https://www.beatport.com/label/superfreq/31694
https://www.facebook.com/superfreqrecordlabel
https://www.facebook.com/groups/25931874259
https://www.youtube.com/user/SuperfreqRecords
https://twitter.com/SuperfreqRecrds
ABOUT DAVID SCUBA:
Raised in New York during the '90s on a diet of underground house music, David Scuba came into his own as an influential A&R for labels like Timeless Groove and Real Music Deal. Now, his closest ties lie with the legendary Mr.C and their Superfreq label.
In addition to producing original material for Superfreq, David has also dabbled in remix work, with one – his reinterpretation of Mr.C's "I'm Gonna Give You Some" – going on to become the label's best-selling track (his EP collaboration with Dance Spirit, The Wi_th, is a close second). His ever-growing portfolio extends beyond Superfreq as well, chalking up releases for notable labels such as Riff Raff and AA Trax. Artists such as Blondish, Adultnapper, Magda and of course, Mr.C himself can attest to Mr. Scuba's talent in the studio, all of whom have supported his music throughout the years.
Ultimately, though, David Scuba shines behind the decks, and even more so behind the scenes. He's taken on DJ resident duties at Superfreq's wildly successful LA parties, for which he's assumed additional roles as promoter, staffer and location scout, and his seasoned selection skills have carried him worldwide, from New York and Bogota to Mexico's BPM Festival and fabric London. Along the way, David's DJ sets have made fans out of peers like Layo & Bushwacka, Carl Cox, Nic Fanciulli, Loco Dice and Tiefschwarz.
The future is bright for this ever-rising star, with upcoming DJ tours and more productions on the rejuvenated Superfreq imprint in the pipeline. As such, the world should watch out for the ever-essential talents of David Scuba… and perhaps in the process they'll discover their own inner-(Super)freq.
David Scuba links:

https://twitter.com/davidscubamusic
https://www.facebook.com/david.scuba.7
ABOUT SHAMELESS AUDIO 004 "WIBBLY BIBBLY":
Shameless Audio is proud to present "Wibbly Bibbly," a spacey yet driving bass house affair by Jon Cates, with impressive and diverse remixes by MO7S and our own Caloris.
Cates' original is a serious genre-spanning dancefloor crusher that bridges classic and contemporary house vibes. Cates incorporates the perfect combination of modern bass house low end and leads with classic deep house hihat grooves, vocal samples and filtered synth lines. The track starts super bass heavy and stripped down, but quickly crescendos into a tripped out, peak hour journey into some "really strange" and extremely hooky music.
The MO7S remix takes the track deeper and more melodic. It brings out some of the original's lead and groove, then layers them with all sorts of
percussion and a rich, organ-like synth. Most of the track's core drive comes from a warm and moving bassline and a subtle yet grabbing use of the original's key hook. Like Cates, the M07S remix builds up in all the right ways, but is always DJ and dancefloor friendly.
The Caloris' Reflection mix harnesses the original's drive and channels it into a deep and stripped down yet totally big room tech house banger. A sonar-like synth, trippy filtered leads and deconstructed vocals from the original gallop over Joe Bellingham's (one half of Caloris) signature spacey pads and driving low end. The interplay between the kick and baseline makes subs, DJs and dancers move in all the right way.
Due to be released exclusively on Beatport mid February 2016.