Sunday, July 4th, 2010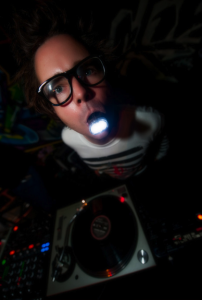 BIO
Despite wet weather the search continues for a man who went missing nearly two weeks ago.  According to officials Levi Clark was last seen with his beloved Jack Russell Terrier while looking for aluminum cans.  "He was an integral part of Shameless Productions and has been missed," said a representative for the Seattle based music collective. 
Levi Clark began playing instruments at the age of five and has been an active member of the electronic music community since the turn of the millennium.  His performances along side James Holden, Para One, DJ Keoki and Brodinski are a few of the more shocking experiences that people have seen in years.  "Even while playing eclectic tracks behind the decks he's either dancing his pants off or actually taking his pants off," said a fan who asked to remain anonymous.
Everything from sonar equipment to cadaver dogs and bloodhounds have been used so far in the search for Levi Clark.  Reportedly a studded belt and a single black sock were found near one of his frequented venues.  Authorities say that they will wait until next Wednesday before exhausting all resources and calling off the search indefinitely.
View all Posts including Levi Clark