Sunday, December 6th, 2015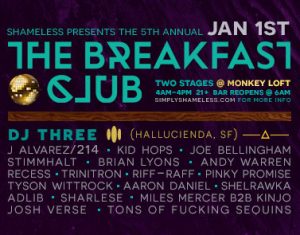 Here we go again! For the 5th year in a row, Shameless is continuing our tradition of throwing a New Years DAY party and it'll once again take place on our favorite rooftop rain or shine. Two rooms of music to start 2016 off right.
THE BREAKFAST CLUB
The Monkey Loft, Seattle
New Years DAY – January 1st 2016
4a-4p, 21+,
Hosted by Bubbles (Listed, SF)
With special guest…
***THREE (Hallucienda)***
Born and raised in a musical home in Pittsburgh, Christopher Milo then moved south where musical experiences at the roller skating rink gave birth to DJ Three steering him on a path to become a pioneer of the fertile Florida rave scene of the 90's before rising up and relocating to New York City in the 00's where he's since held residencies at institutions like NYC's Twilo, the famed Robots parties at Cielo and now at Output in Brooklyn all the while being a global regular at underground mainstays from Japan's Labyrinth Festival and Get Lost to fabric in London and Club Eleven in Tokyo. He's known and loved known the world over for his eclectic underground musical stylings both as a DJ, label head and artist having been involved in beloved U.S. imprints Hallucination Recordings, Hallucination Limited and now Hallucienda while at the same time having produced underground staples like the Three A.M. Burning Spear remix of Rabbit In The Moon – Out Of Body Experience in the 90's and the perennial underground classic Second Hand Satellites – Multiple Mirrors E.P. in the the early 00's. His stylistic range made him the perfect choice to curate and mix the "Laterna Magika" DJ mix portion this summers Visionquest Ultraviolet 1 compilation on which he draws upon the labels vinyl only material and the more hidden gems lurking in Visionquest's own diverse catalog. Visionquest Ultraviolet 1 was released in late June and Three's "Laterna Magika" mix is receiving rave reviews from Mixmag (Comp Of The Month honors), XLRR, Data Transmission, Ibiza Voice, RA, but, most importantly from you —- the dancers and music lovers —- setting the tone for even more adventurous DJ sets this fall and winter.
http://www.residentadvisor.net/dj/djthree

https://www.facebook.com/djthree/
http://www.hallucinationlimited.com/
Along with two rooms of music by favorites from all across the Northwest…
J Alvarez/214 (Frustrated Funk, Shipwrec)
Kid Hops (KEXP, Get Physical, Ninja Tune)
Stimmhalt (Peace & love)
Andy Warren (Believe You Me)
Recess (Shameless)
Brian Lyons (Flammable, Studio 4/4)
Joe Bellingham (Shameless)
Trinitron (Bounce Brunch)
Riff-Raff (Night Crush, Bottom Forty)
Pinky Promise (Studio 4/4, Q Nightclub)
Tyson Wittrock (Shameless)
Aaron Daniel (DJ/Live Set)
Shelrawka (+PLUS Techno)
Adlib (Shameless)
Sharlese (False Prophet, KEXP, TUF)
Miles Mercer B2B Kinjo (Grounded)
Josh Verse (Fifth Beatle)
Tons of Fucking Sequins (InnerShame)
Just Ups & Stay Ups unite!
We have VERY LIMITED discount early bird tickets AVAILABLE NOW!