Thursday, December 27th, 2012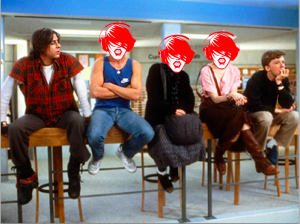 This is Shameless HQ writing to remind all you Seattle freaks of where you should be spending your New Year's Day. Whether you rest all of New Year's Eve, get way too wasted before midnight and pass out in a gutter, party with Innerflight 'til the breaka-breaka dawn or are STILL UP from last weekend's Shameless "Social" monthly, you would do yourself a favor by stumbling on over to the Electric Tea Garden, getting yourself an ice cold beverage, writing/speaking run-on sentences, and listening to some hot as hell dance music at about 6am until the wee hours of the afternoon on New Year's Day. That's right, we're presenting another edition of our now infamous Breakfast Club party, featuring food, booze and two areas of music insanity from 6am-4pm.
For those of you were there last year, this should be a no-brainer. For those of you who weren't, you'll just have to come see if all the rumors are true. Will there be more phenomenal sets by some of Seattle's favorite dance music legends? Definitely! Will there be incredibly awesome performance art? You betcha!… although this time it will be by Gaydolf and the Golden Showers, as Tons of F***ing Sequins are now signed to a major label and way out of our league… Will a man strangely resembling Zach Galifinakis blow us all away with his unique and only slightly creepy brand of awesomeness? Hopefully! Will Principal Vernon show up? Probably not. Will there be a metric shit-ton of bacon? Probably yes. Will there be at least some bacon? MOST DEFINITELY! Will there be booze-a-plenty? YES! It will be flowing like Manna from heaven (or, at least, from ETG's exceptionally competent and tolerant bar staff)!!! Will Adlib be playing another exceptionally rad closing set? No… alas, he can't make it, as he will be on a plane to Hawaii… but that means you guys all just have to get twice as stupid for him!
We guess at some point we should stop writing and share the details. Well, for those of you still around, here they are!
The Breakfast Club – New Year's Day Party!
Cyanwave vs Sone (From 0-1)
Nordic Soul (Decibel)
Eva (Mastermind)
Wesley Holmes (Flammable)
Deepvibez vs Jeromy Nail (Uniting Souls)
J-SUN (Innerflight Music)
Sh6rl6s6 (KEXP, No Sleep)
DJ D'Nelski (Hush Hush)
Erin O'Connor vs Riff Raff (Soft Wall, Bottom Forty)
Recess (Shameless, Q)
Joe Bellingham (Shameless)
Withrock (Shameless)
6am-4pm, 21+
Electric Tea Garden
Seatlle, Washingsocks!
immediately proceeding: Innerflight Toasted NYE (GO TO THIS PARTY, TOO!!!)